Samsung more than most companies would have high hopes for 2017 especially as 2016 was a bit rubbish for them.
They plan to do so by launching 2 phones from their Galaxy A range. And while the A range may not be flagship models, they are good mid-range phones that consumers will love.

The Galaxy A5 2017 is the larger of the two, with a 5.2-inch screen, while the A3 2017 is smaller at 4.7 inches. Both are IP68 water and dust resistant, for the first time, and are said to have improved battery life, with the A5 shipping with Samsung's Fast Charging technology built in. This technology was added to the Galaxy S6 and S6 Edge and is designed to give your battery a boost. During tests, a phone will charge to around 50 per cent in less than 30 minutes.

While the A3 has a 2,350mAh battery, the A5's boasts of a 3,000mAh battery. The Galaxy A5 runs on a 1.9GHz octa core processor; the A3 runs on 1.6GHz.

Elsewhere the phones have reversible USB Type-C ports, as seen on the OnePlus 3 and 3T, come with Always on Displays (designed to save battery life by showing notifications without waking up the entire device), and microSD support up to 256GB.

"At Samsung, we are always trying to ensure our customers have the most advanced products on the market," said DJ Koh, president of mobile communications business, Samsung Electronics. "We integrated our unique approach to design as well as the features Galaxy customers have come to love to provide added performance without compromising on style."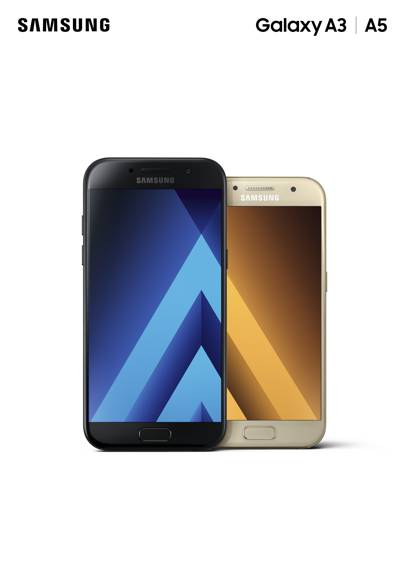 In terms of the camera quality, the Galaxy A3 has a 13MP camera, with an 8MP on the front while both the front and rear cameras on the A5 are 16MP.


It's unknown when exactly both phones will hit shelves, but the A series might just be what Samsung need to jumpstart their year.